Renting A Waterslide
Slide into summer by renting a waterslide from CT Inflatables. We have a large variety of Wet Slide Rentals to choose from! 
Single Lane Rentals 
Double Lane Rentals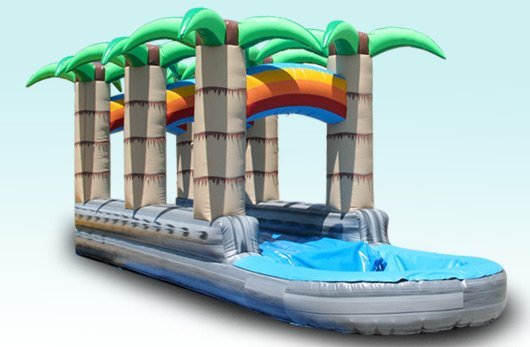 Our rentals are sure to keep your guests sliding into summer with a smile on their face. Keep cool this summer with a Water Slide Rental from CT Inflatables.
Summer Parties
Summer temperatures can be hot so make sure you have somewhere to cool off! Check out our Event Tent Rentals to create a shaded environment for your guests to cool down during the sunny days. We also have Table and Chair Rentals so you can keep the party outdoors and have plenty of serving and sitting space. Summer parties are great for birthdays, company events, back to school parties, and any occasion. Don't forget to check out our Dunk Tank Rentals which are also great to cool down and a great way to add fun to your next event. Need help planning your summer party? Check out these easy party ideas
No matter the occasion an inflatable waterslide is always a great way to entertain all ages!
Jump
Into
Summer
Waterslides aren't the only way to get your summer started. Check out CT Inflatables large variety of Bounce Houses! Bounce Houses are a great way to keep large numbers of guests having fun! Having a large summer party can be so much fun but entertaining large numbers can be tricky. We make it easy with our great rentals. Our add-ons include
And so much more! We make it easy too, from delivery to pick up we strive to have your party started in a timely manner. We love seeing the smiling faces of all of our guests young and old alike when we setup our great rentals. Nothing makes us happier than hearing great Reviews from our clients. Let CT Inflatables show you why our company is one of the best rental companies in Manchester and Tolland
 Connecticut.
Rental Questions
Most questions can be answered in our FAQ section or you can always Contact Us! Most asked questions include
Are we
Insured:
We are insured with liability
insurance
How much room is needed: Most inflatables require an area of 20×20 ft with some of the larger rentals needing more space. You will also need the area to be level and free of rocks and sharp debris.
We are here to help with any and all questions if you need more information. Get your summer started with a Water Slide Rental from CT Inflatables & Event Rentals. We look forward to making your summer party or
event the
coolest around.